01/28/2020
On January 17, Huntington, WV-based Marshall University announced that Clio, a free history-based mobile app and website founded by the university, received a nearly $100,000 grant from the National Endowment for the Humanities (NEH) to improve its accessibility for users who are visually impaired in collaboration with AFB. Drawing on AFB's experience developing the fully accessible Helen Keller Archive, and the organization's deep commitment to helping other organizations reach their digital inclusion goals, partnering with Marshall University to make this unique historical resource accessible to all was a no-brainer.
Clio connects thousands of people to historic and cultural sites around the United States. Created by Dr. David Trowbridge of Marshall University, Clio is driven by a nationwide network of contributors from communities and institutions who know their history and want to share it with the world. Clio includes articles for over 30,000 landmarks and 600 complete walking tours.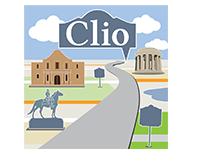 Upon the announcement of receiving the NEH grant, Dr. Trowbridge stated the following:
"As Clio grew into a national project, I thought more and more about accessibility and the potential to use technology to reach people. History often resonates because of the power of narrative, and that's not something that is limited to a single format.
"Just as texts can be accessible through audiobooks, and computers can be accessible through screen readers, Clio can be accessible through existing technology. We'll start there, but just as AFB's hashtag #NoLimitsAFB suggests, there are no limits to what we might create. A mobile platform could embed narration from local historians and stories from local residents so users could walk through a community as if the buildings and streets could share the stories of those who came before us.
"Of course, Clio is non-profit and free for everyone, so I am thankful for this grant, our donors, and everyone who has supported this project. Our team of educators, engineers, and accessibility experts are looking forward to the challenge. In the next few months, you'll notice some changes to the platform. And of course, new technology will continue to create opportunities to make Clio more useful and intuitive, for everyone."
Lee Huffman, AccessWorld Editor and Manager, added:
"The American Foundation for the Blind is thrilled the NEH has awarded funding to the Clio App to increase its accessibility for people who are blind or visually impaired. We applaud Dr. Trowbridge's commitment to accessibility, and we look forward to serving as accessibility consultants to Dr. Trowbridge and his team as they make Clio accessible to everyone, including the estimated 26.9 million Americans who experience vision loss."
AFB is no stranger to support from the National Endowment for the Humanities. Since 2015, AFB has received over $600,000 in federal funding to digitize the Helen Keller Archive. As with the Clio app and website, AFB's number-one priority in digitizing the Archive was to set the standard for a fully accessible digital archive that would create equal access to historical collections for those with and without visual disabilities.
Read the Marshall University press release.
Read recent media coverage from the Herald-Dispatch.
Explore the accessible Helen Keller Archive.